Aleksandar Stefanović , Development manager at ELSAT d.o.o.
http://www.tenlogic.rs
Bilateral Meetings
07.11.2014 Friday (3:20pm- 6:20pm)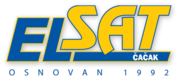 "ELSAT" DOO was founded in 1992. The main activities are production, designing, installation and assembling of equipment in the field of electrics of high and low voltage power, including: system of technical protection, fire protection, telecommunication, hotels and hospitals systems and home automation systems – Smart home.

In accordance with the mission in 2011 "ELSAT" presents its new brand – tenLogic, which integrates home automation and logical television – LogiTV. Saving energy, energetic efficiency, comfort and convenience of life, through increased safety, with fun and informing, it positions tenLogic as integration "invention" of this century.



Country: Serbia
Organization Type: Company
Organization Size: 11-25
Founding Year: 1992
Phone: +38132350222
Email: aleksandar.stefanovic@elsat.rs
City: Čačak ,Gvozdena Paunovića 6 Google map
Areas of Activities
Offer
Home automation (smart home) system.
We are interested in finding new partners for integration of tenLogic home automation system.