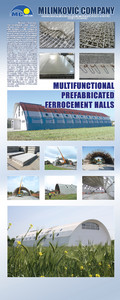 Mladen Milinkovic , Technical Director at Milinkovic Company
milinkovicco.com
Bilateral Meetings
07.11.2014 Friday (3:20pm- 6:20pm)

With tradition since 1990, company is a registered Entity of innovation activity at the Ministry of Science. R&D and production center no. RIO 67/09 since 2009. Continual development of company and innovation of its employees resulted in patenting of new construction system.
Country: Serbia
Organization Type: Company
Organization Size: 26-50
Founding Year: 1990
Phone: +381 11 3180700
Email: milinkovicco@gmail.com
City: Belgrade 11275,79 Brace Gavrajic street Google map
Areas of Activities
SUSTAINABLE CONSTRUCTION AND MATERIALS
Offer
MC System of construction
- Licensing is negotiable, can be agreed by terms, territory and fees (annually, royalty, etc).
Licensing can be arranged for construction works only, while Serbian company would supply elements and know how.
Joint venture can be starting a new legal entity ground up where Serbian company would provide intangible assets (IPR) while partner should provide tangible assets and market share.
Joint Venture can be arranged for projects where Serbian company can carry out construction works.

Offer & Request
MC System
MILINK0VIC COMPANY LTD the company for designing, engineering, construction and manufacturing. July 2003. The merging companies 'Teleinformatik' and 'Ruraltel' resulting company.

MILINKOVIC COMPANY LTD
Our primary activities are:
• Design and construction of prefabricated ferrocement elements
• Design and construction of buildings such as warehouses, manufacturing facilities, offices, residential buildings, sports halls, silos ...

New branch was opened in Iraq in 2013 named "MC SYSTEM OF CONSTRUCTION - Kurdistan" whose busines will be construction of objects using MC System technology on the territory of Kurdistan, Iraq.