Aleksander Tonnisson , Founder, CEO at Buildit Hardware Accelerator
http://www.builditaccelerator.com
Bilateral Meetings
07.11.2014 Friday (3:20pm- 6:20pm)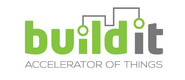 Buildit is the first accelerator in the Baltic States and Nordic countries with focus on physical devices.
We are accepting hardware startups worldwide.

We offer €20,000 investment to our startups in exchange for 12% shares of their company. Teams can also go for €15,000 investment in return for 9% or choose €10,000 for 6%.

During the 3 month mentoring program teams can use our prototyping facilities. Startups are offered free open office space at Tartu Science Park and can test their product with end-users in a Living Lab setting. Teams also get free and discounted services from partners – that includes development tools, design services, legal and accounting services + many more.
Country: Estonia
Organization Type: Investment fund
Organization Size: 1-10
Email: aleksander@buildit.ee
City: Tartu ,Riia 181A Google map
Areas of Activities

Offer
Early stage hardware investements
We invest into early stage hardware companies and help them grow their value through 3 month mentoring program and bring them together with investors and manufacturing contacts.
Cooperation Offered
Investment/Financing
Cooperation Requested
Technical co-operation
Manufacturing agreement
Investment/Financing